Graffiti writer
Spamdog
/ Spamdog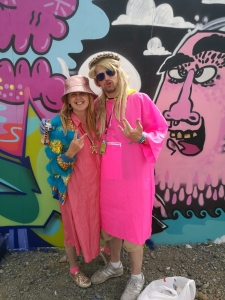 Spamdog Profile
1980年 Hull,England生まれ
0University of the West of England, Bristol 卒業
◆受賞歴

◆展示歴
2021 Vanguard 'Bristol Street Art', Arnolfini Bristol
2022 Continental Drifters - Dareshack, Bristol
2023 Art Baboo, Yokohama
◆インフォメーション
I'm an artist involved in the 1990s Hull, and early 2000s Bristol graffiti scenes in the UK.

Drawing, painting, spraying and making artwork helps us to process the things we can't explain in words. Hyper-saturated commercial and social media platforms pay millions of dollars to bamboozle your eyes and wrestle control of your mind with brands and image. What's so wrong with you going out and writing your name on a wall and expressing yourself freely?

1990年代のハル、2000代初頭のブリストルなどのUKグラフィティシーンにどっぷりと浸かったアーティスト。
ドローイング、ペインティング、スプレーなどのアートワークというのは言葉で説明できない物事を伝えてくれることがある。世に溢れかえった宣伝やSNSに何百万円も投資し人々の目を欺き、ブランドイメージをコントロールしようとする。だったらどうして街に繰り出して自由に名前をウォールに書いてもいいんじゃないの??